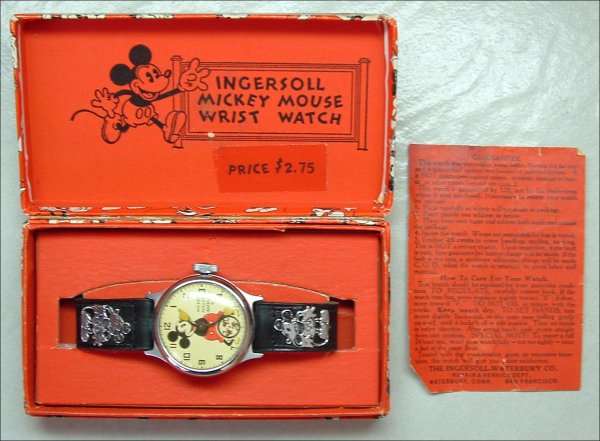 I give a free estimate (you only pay $25 for round trip shipping) on the restoration of your Ingersoll Mickey Mouse (or other Ingersoll character) watch. I can restore ANY 1930's or 1940's Ingersoll character watch (pocket or wrist). If you have tried to find someone to fix your watch, you know It is nearly impossible to find someone to fix or repair these watches because the replacement parts have not existed for over half a century. I have acquired the estate of a watchmaker from Waterbury, CT (the city where the Ingersoll watch company was located) and I probably have the largest inventory of spare parts for these watches in the world. If you want your collectable treasure running again (and have any missing parts replaced) I CAN DO IT.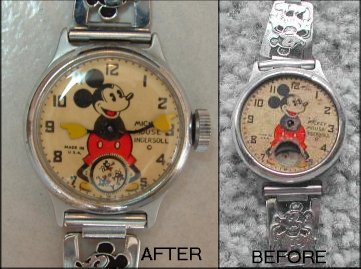 I can make your watch a WORKING ALL ORIGINAL WATCH like all of the those I sell. Your character watch will be returned to you in good running condition, having just been professionally cleaned and oiled with ultrasonic cleaning of the case and bracelet also. Your watch will be a rugged reliable watch that you can wear occasionally if you choose!
Once you have your estimate, the price is carved in stone, it will not change if you authorize the service. Rates for repairs and parts are as follows:
If your watch is complete and nothing is broken the service of the movement and cleaning of the case and band will be $175
If you need any of these (below) add it to the base $175:
Original Hands and seconds disks (Mickey Mouse only) $45 each
Any mechanical parts which are missing or broken (except for hair spring): $25 each
Hair spring: $50
New round crystal (low domed like original 1933): $25
Good ORIGINAL dials (Mickey Mouse only): $75 each
New ZRC hand stitched French leather black band very similar to original, adult length: $25
Original Leather band with Mickey Mouse Charms $175
Links for Original 1933 metal link bracelet $45 each
Replating of case, case back, and bezel: $75
When retuned, your watch will be a solid running vintage collectable that you can wear with confidence, Ingersoll used similar movements in their adult watches of the time period. People recognize vintage Ingersoll Mickey Mouse Watches when you wear them. I get more comments on these than I do my Rolexes.
The entire watch will be guaranteed for 3 months, even the parts I do not replace. If ANYTHING goes wrong with the watch inside of 3 months return it and it will be fixed FREE, no hassles (water damage or obvious abuse excluded).
If you you would like to inquire about this service, please contact: web@watchspot.net